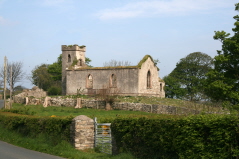 St. Columba's (The Old Church Straid) was built in 1772 with a grant from the Protestant Bishop of Derry, Frederick Hervey (1730-1803).
There are many graves in the churchyard at Straid but for the most part they are unhewn and uninscribed and represent the burial of the many Catholics laid to rest there.
There are a small number of graves with legible text, including that of the Doherty family, local landlords who resided in Glen House and were the last patrons of the Church.
There is one Commonwealth War Grave in Straid.
The Church enjoyed a brief revival during the First World War ministering to the needs of the British Army who were billeted at Glenfield Camp. Declining numbers finally took its toll in 1920 when the Church was closed, the roof removed and the furniture auctioned in 1927.
The Old Church at Straid is located at N55.265 W-7.426.
Surveyed April 30 2014