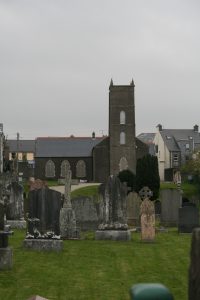 Christ Church Lower Fahan Church of Ireland is located on the main street in Buncrana. Built in 1804 it served as a Garrison church for the large number of British soldiers who were based in the locality prior to partition. Consequently there are a good number of burials of army and naval personnel from the 19th and 20th centuries.
The grave yard is exceptionally well maintained and the vast majority of the headstones are legible. There are a small number of late 18th, early nineteenth graves with breastplate type grave markings. The bulk of these are unfortunately unclear as to the inscribed text.
The Parish Hall is located on the same site and dates to 1856.
Christ Church Lower Fahan is located at N55.134 W-7.456
Christ Church Buncrana x Second-Name
Christ Church Lower Fahan was surveyed on April 26 2014 with a foolow up survey in August 2017.