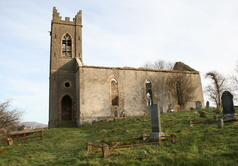 Overlooking Lough Swilly, Linsfort Church of Ireland was built in the 1650's and was in use until 1972. It is located on the left hand side of the Buncrana to Fort Dunree road, approximately 6,5 km from Buncrana.
The oldest legible headstone dates to 1811 although there are a good number of stone grave markers with no inscriptions.
There is one Commonwealth War Grave in Linsfort.
Linsfort Church of Ireland is located at N55.172 W-7.500
Desertegney CoI Linsfort x Name
Desertegney CoI Linsfort x Plot
Surveyed March 11 2014